JOSY, short for Joining System, is a high-speed and non-contact system from SmartRay that performs automated 3D Weld Inspection suited for any welding application - MIG, TIG, Laser Brazing, and more.
How JOSY Weld Inspection Work?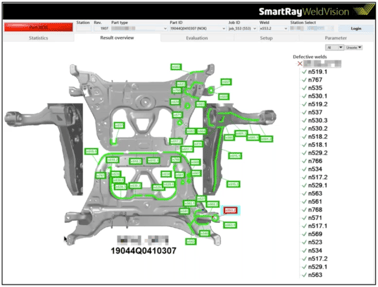 JOSY is a specialized software package for 3D inspection exactly configured to your specific weld inspection needs.
The software synchronizes with a matching hardware to transmit data to a system to give a simple OK / NOT OKAY status to all welds within a job.
JOSY is compliant to multiple engineering standards.
Why Is 3D Weld Inspection Important?
3D Weld Inspection gives manufacturers - especially those who need 100% inspection and high pass rates - control of the weld inspection process and a speed of execution that status quo methods like Ultrasound, X-Ray, and Dye Penetrant do not provide.
3D Inspection is also non-destructive, so welds that don't pass inspection can easily be brought off the production line for repair without delaying the rest of the manufacturing process.
JOSY 3D Weld Inspection By the Numbers:

400 mm/sec
Scan Rate
100% Weld Inspection
Efficiently at Scale
>99% Scan
Accuracy

What Does 3D Weld Inspection Scan and Detect?
3D Inspection can be programmed to detect:
Porosity
Spatter
Undercuts
Weld Bead Length / Throat / Thickness,
Concavity / Convexity
Holes
Incomplete Groove Fills
Any and all of these possible weld defects can be programmed to the software to quickly identify these weld joint features.
This gives manufacturers with expensive parts or the need for highly automated and efficient levels of inspection control over the process like never before seen.

Ready to See How 3D Weld Inspect Improves Your Production?